WOW Tops Offshore Class at 2015 Volvo Dun Laoghaire Regatta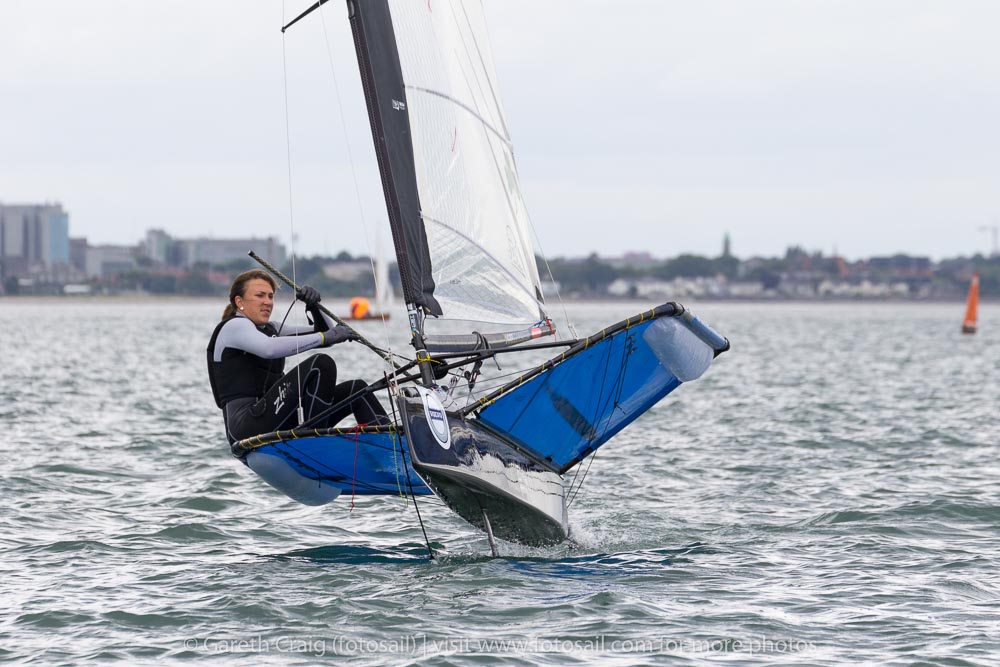 Lighter winds brought changes to the leader board in several classes in the penultimate day of Ireland's biggest sailing regatta, the Volvo Dun Laoghaire regatta on Dublin Bay today.
One contender for tomorrow's (Sunday) top prize of the 'Volvo Boat of the Regatta Trophy' is the Farr 42 Wow, skippered by George Sisk. The Royal Irish yacht, that won the ICRA National Championship in Kinsale last month, now counts two wins from three races in a bumper weekend turnout for the IRC offshore class. A promising 10 to 12 knots westerly wind got racing for all 415 boats in 29 classes off to a solid start this morning and held all day to keep the ambitious programme of more than 200 races on target for tomorrow's final round. The Sisk led 25-boat IRC offshore fleet departed Scotsman's Bay bound for South Burford, the first of eight turning marks on its 31–mile course. The offshore fleet has one race left to sail tomorrow morning but already Irish Sea Offshore Racing Association (ISORA) Commodore Peter Ryan is hailing the offshore series within the regatta programme a 'terrific success'. "Other regattas need to do what Dun Laoghaire has done and move with the times – offshore racing is here to stay", he said last night.
Another contender for the top prize is the X302 Dux, the Anthony Gore–Grimes skippered Howth Yacht that has three wins from five races in IRC class three. Dux mastered some of the trickiest conditions of the event so far to lead the 11–boat Volvo class three since racing began last Thursday.
A slip in race four ruined a perfect scoreline for Conor Phelan's Jump Juice crew but took another win in race five for the Royal Cork Yacht Club to have a seven point advantage at the top of the seven boat class zero. In class one, one Dublin Bay entry replaces another at the top of the leader board as Tony Fox's Gringo scored a race five win this afternoon to unseat 2014 national champion, Bon Exemple, an Xp33. Fox goes into the final race tomorrow with a single point cushion. In class two, the South Caernarvonshire Yacht Club J97 Injenious continues to lead from Howth Half–Tonner Checkmate XV. Third is another modified Half–Tonner from Howth, Johnny Swan's Harmony. The Royal Irish Quarter tonner Cri Cri has also produced a scoreline worthy of boat of the week consideration. Paul Colton counts three wins in the 16-boat class four fleet to lead Royal Ulster Yacht Club and Ballyholme entry Starflash (Alan Morrison and John Simms) by three points.
In the J109 class, John Maybury's Joker II from the Royal Irish briefly overhauled Rush Sailing Club's Storm II for the first time in the series after race four but a final race win saw the north Dublin crew earn a two point margin. With one race left to sail both the Volvo and Irish title will be decided on the 'centre course' race track tomorrow morning.
In the one design divisions, three wins out of five races is good enough for Alan Harper's Leaky Roof 2 from the Clyde Cruising Club who leads Belfast lough rival Squawk (Paul Prentice) by two points. With five wins from eight races Ian Mathews and Keith Poole have built a six point lead in the 20–boat Flying Fifteen class. Olympic sailor Annalise Murphy together with her coach Rory Fitzpatrick are racing in the fast Moth class of the Volvo Dun Laoghaire regatta, the first time the foiling craft have raced in class in the biennial event. Fitzpatrick has eight wins from eight races. Murphy, sailing Bad Dolphin, is second in the eight boat fleet.
The overall prize giving will be staged at the National Yacht Club tomorrow at 3pm
Selected results after VDLR Day Three. Full results available on www.dlregatta.org
IRC CLASS 0  1. Jump Juice (C Phelan) 2. Forty Licks (J Colville) 3.Auora (R Stuart / B Ram)
IRC CLASS 1  1. Gringo (T Fox) 2. Bon Exemple (X Yachts GB) 3. Rockabill V (P O'Higgins)
IRC CLASS 2   1. Injenious (M & G Crompton & Hallworth) 2. Checkmate XV (D Cullen) 3. Harmony (J Swan)
IRC CLASS 3   1. Dux (A Gore-Grimes) 2. Maximus (P Kyne) 3. Evenflow (S Cranston)
IRC CLASS 4 1. Cri Cri (P Colton) 2. Starflash (A Morrison & J Simms) 3. DI RICH (T Hare & P & J Pratt)
IRC Offshore 1. WOW (G Sisk) 2. Freya (C Doyle) 3. Flashback (P Gregory & D Breen)
J109  1. Storm (P Kelly) 2. Joker 2 (J Maybur) 3. Something Else (J & B Hall)
SIGMA 33  1. Leaky Roof 2 (A Harper) 2. Squawk (P Prentice) 3. White Mischief (P McCarthy)
The Volvo Dun Laoghaire Regatta is Ireland's biggest sailing event and takes place until tomorrow with over 400 boats and 2,500 competitors taking part. There is a great festival atmosphere across the waterfront and Dun Laoghaire town as four sailing clubs come together for the biennial event; Dun Laoghaire Motor Yacht Club, Royal Irish Yacht Club, Royal St. George Yacht Club and National Yacht Club.
For more information see www.dlregatta.org or find Dun Laoghaire Regatta on Facebook and Twitter.