Dubarry Ladies' Lunch raises €7,150 for RNLI
Members of Dun Laoghaire RNLI received a cheque for €7,150 during their Monday evening training session this week. The funds were raised at the Dubarry Ladies' Lunch which was held during the Volvo Dun Laoghaire Regatta at three of Dun Laoghaire's Waterfront yacht clubs on the Saturday afternoon of the event last July. The cheque was presented to Coxswain Mark McGibney and the lifeboat crew by Volvo Dun Laoghaire Regatta (VDLR) Event Chairman Don O'Dowd, Keith Kenny from Dubarry of Ireland, VDLR committee member Colin O'Brien and VDLR Co-ordinator Ciara Dowling.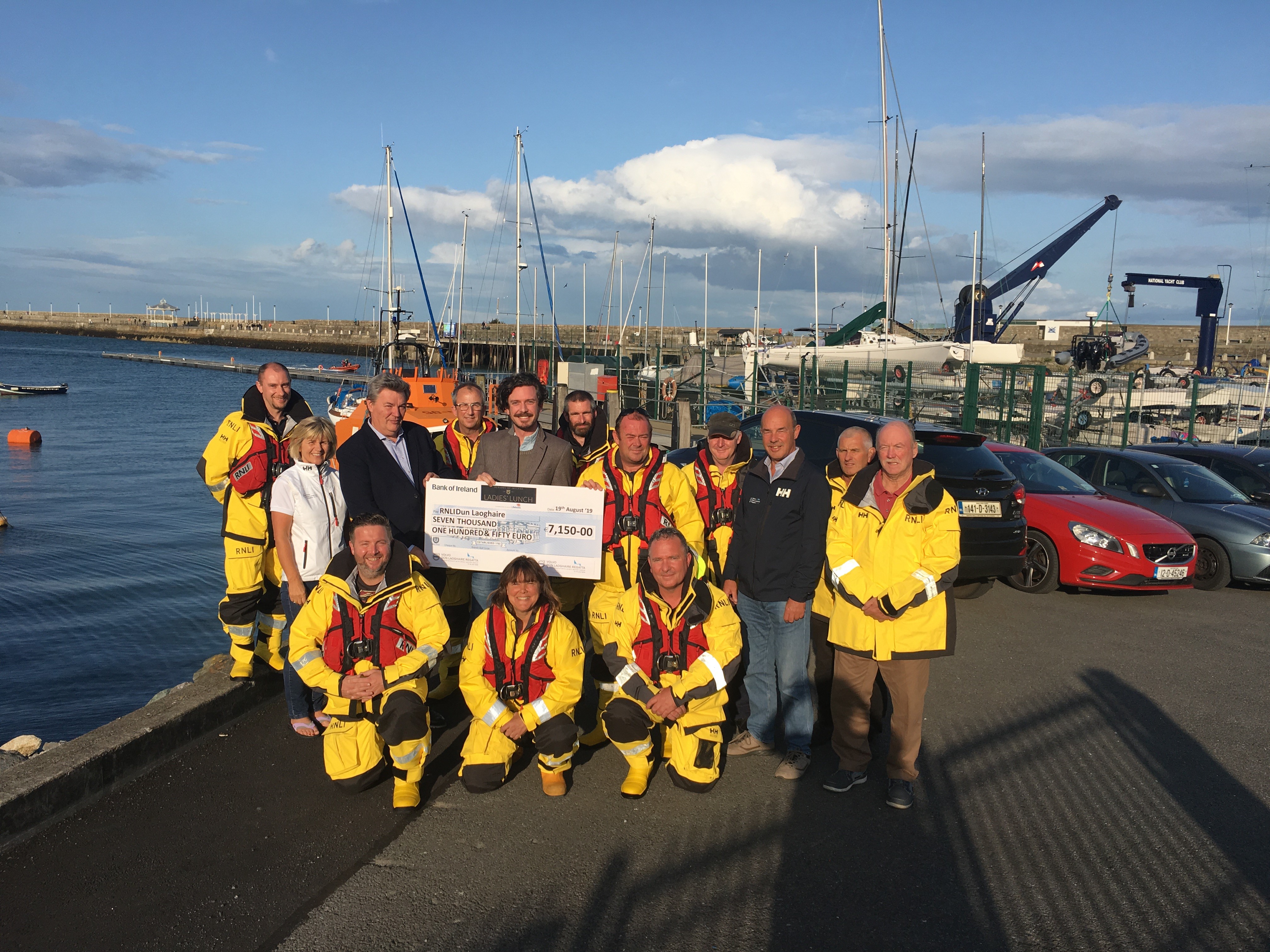 The Dubarry sponsored Ladies' Lunch was held at the Royal St. George, the Royal Irish and the National Yacht Cub. During the event Dun Laoghaire RNLI volunteer lifeboat crewmember Damien Payne visited diners at all three venues dressed in his full lifeboat kit to talk about the work of the charity. The event was sold-out and one of the highlights of the social calendar over the four days of Ireland's largest biennial regatta.
Don O'Dowd, Event Chairman of the Volvo Dun Laoghaire Regatta said, 'The choice of charity for the Dubarry Ladies' Lunch was an obvious one for us. We are all sailors and we need the RNLI. We had over two thousand people out on the water during the four days of the event and it's wonderful having the RNLI nearby. We all hope we will never need them but to know they are there if we do gives us a great sense of security.'
'We were bowled over by the amount raised and I wish to thank everyone who so generously supported the event.'

Don O'Dowd, Event Chairman of the Volvo Dun Laoghaire Regatta
Keith Kenny, Group Retail Manager for Dubarry Ireland, who sponsored the Ladies' Lunch added, 'We've been involved with the Regatta for a number of years, but this was the first year that we sponsored the Ladies' Lunch and it was a great success. We are hugely appreciative of the work of the RNLI and the volunteer lifeboat crew in Dun Laoghaire.'
'Dubarry started off as a sailing brand and that will always be an important part of the business, so to be able to give back into that was important to us.'
Stephen Wynne, Dun Laoghaire RNLI Lifeboat Operations Manager added, 'We are delighted to have been the charity of choice for the Dubarry Ladies Lunch. We have a great relationship with the members and staff of the local yacht clubs, and we are very grateful to them for their support. It was lovely to have the cheque presentation on a crew training night and for the organisers and sponsors, Dubarry, to see where the funds go. We want to thank everyone involved with the event and to those who supported the RNLI on the day.'