ICRA Launches Under 25 Discount Initiative
Building on the ICRA / Irish Sailing U25 Support Programme, we are now pleased to announce our support for the launch of their 25/25 scheme.
To support the existing and newly formed U25 squads around the country, they are asking all Event Organising Authorities and Clubs around Ireland to offer a 25% discount on entry fees to all U25 squads entering events.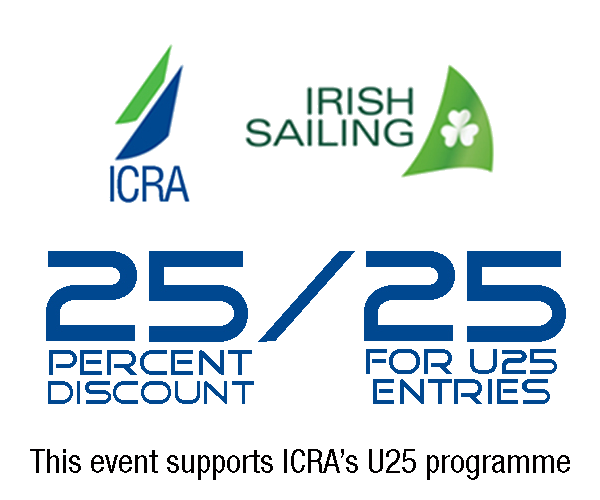 Supporting Events will use the above logo on their race documents to quickly make competitors aware they are supporting U25 sailors and offering this 25% discount on entry fees.
The following events have already committed to offering this discount:
Cork300 Volvo Cork Week – Royal Cork Yacht Club
Wave Regatta – Howth Yacht Club
WIORA Championships – Tralee Bay Sailing Club
J24 Northerns – Carrickfergus Boat Club
J24 Westerns – Sligo Yacht Club
J24 Southerns – Foynes Yacht Club
J24 Nationals – Howth Yacht Club
Volvo Dun Laoghaire Regatta 2021
ICRA and Irish Sailing greatly appreciate all the above clubs and events for leading the way on this initiative.
They are working on adding more exciting 25/25 discounts very soon.
Any event or business interested in supporting the 25/25 scheme by offering the discount and carrying the logo, simply email U25@cruiserracing.ie